TESTIMONIALS...

"Made our Day! Jackson Miles Band helped make our wedding day exactly what we hoped for it to be! From their live music to DJ'ing, our guests loved their experience! As vendors, they were SO responsive and easy going with us, we couldn't have asked for any less stress from our musicians throughout the entire experience, planning through to the big day! Highly recommend, these guys are awesome!!"
Andrea and Tom (Bride and Groom, October 2021, Restaurant Eighteen, Ottawa)
"Thank you from the bottom of our hearts for bringing your amazing talent and energy to our Wedding Day. Having great music was a priority for us as we wanted our guests to have a memorable experience. Not only were our guests blown away that evening, but they still to this day talk about how amazing the band was! 
Jason made the booking and planning process easy. All of the band members met our expectations on the day of and were prompt & professional.
If you're in the market for a live band for your wedding or special event and want your dance floor to be packed ALL NIGHT, choose Jackson Miles :)"
Cassandra & Devan (Bride and Groom, October 2019, Shaw Centre, Ottawa) 
"We used Jackson Miles Trio for our wedding in August 2019, and were beyond pleased with them!  Communication with Jason was seamless from the beginning.  He was extremely responsive to all email communications throughout the process, and promptly answered any questions we had thoroughly.  We especially appreciated the accommodations he was able to make for us along the way.  From renting a clip on mic for our officiant, to ensuring our various speakers had microphones throughout the property to speak throughout the evening, the sound set up was wonderful and our vision of what we wanted really came to life.  We felt at ease the day of upon arriving at the venue and seeing that the band was present, and sound check had been completed.  It was really calming to know that everything was taken care of.  
Peter played acoustic versions of some of our favourite songs during our ceremony, which turned out beautifully.  Jason and his team provided DJ music throughout cocktail hour, which really fit the vibe we were looking for, and demonstrated their openness to our vision and understanding of what we wanted.  The trio played so many amazing covers throughout the night, and really turned our reception into a party!  Our dance floor was full all night, and we continue to receive feedback from our family friends about how memorable and fun the night was.  Music aside, Jackson Miles really went above and beyond to ensure he our evening went smoothly from start to finish. They checked in periodically to ensure the flow of speeches were happening on time, and were flexible with their sets to accommodate changes.  We could not be happier with how our wedding turned out, and would highly recommend Jackson Miles- they were an absolute pleasure to work with."
Annika (Bride August 2019, The Herb Garden, Ottawa)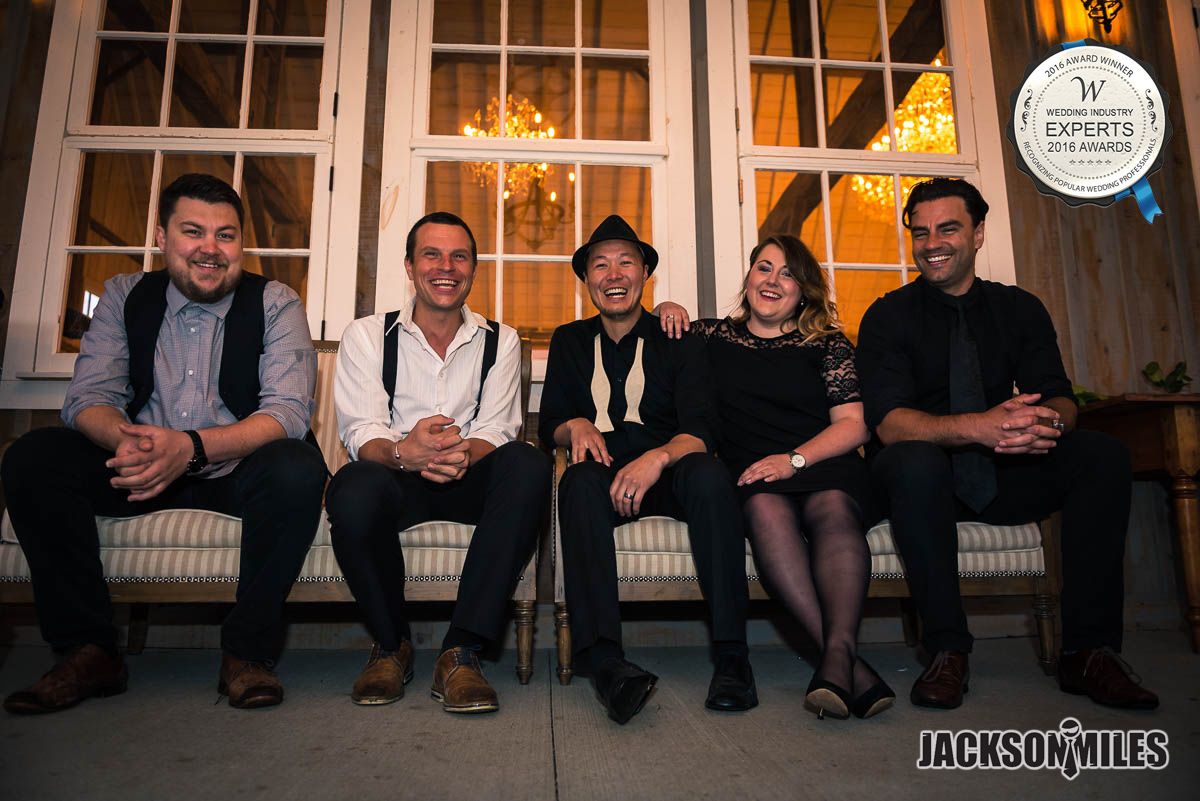 "Couldn't write enough positive things about Jackson Miles band! We had the trio for our wedding reception and they had the dance floor full all night! Their repertoire had something for everyone and they have a really cool unique sound!  We dealt with Jason via email and he was always a pleasure to deal with, everything went so smooth - the booking was super easy to set up! We never actually met in person until the day and everything went off without a hitch! 
All our guests were raving about the music! I would highly recommend this talented professional trio for your wedding, you won't be disappointed!
Thanks again, genuinely ye are amazing!
Yes, we will hopefully see ye play at a pub sometime again!"
All the best,
Laura and Justin (Bride and groom August 2019, Deerhurst, Resort, Huntsville)
"Leading up to our big day, Jason and the band made planning easy with professional communication and incredible attention to detail. The guys made the whole process a breeze. The music was amazing, the overall song selection and DJ services were tailored perfectly.  Overall a truly professional group of talented artists - highly recommended!"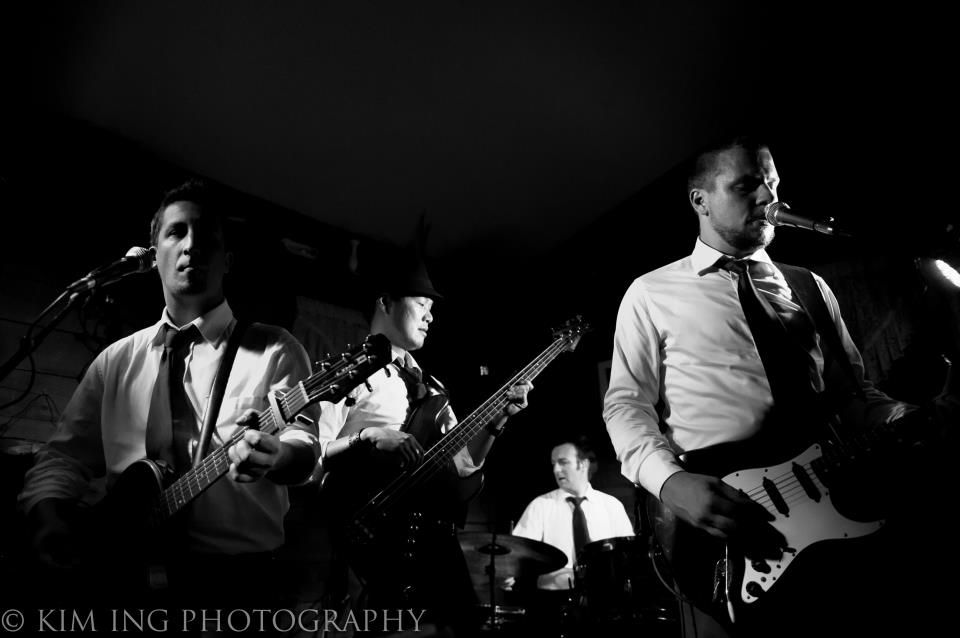 Kurtis (groom August 2019, Pine Lodge, Bristol, QC).  Photo by Martin D Photography
"Jackson Miles Band is awesome! Jason Leen went above and beyond to accommodate us. The band set-up early to ensure there were no interruptions during our dinner, and then when the dance party started they read our guests to a T. They played a variety of music to get the most people on the dance floor. Instead of having to spend the whole night doing table rounds, all my husband and I had to do was meet our friends/family on the dance floor. 
Thank you, Jackson Miles Band, for making our dreams come true."
Jenny (Bride August 2019, Calabogie)
"We hired the Jackson Miles Duo for our wedding and we're so glad we did! From my very first interaction with Jason, I was impressed. His responses were prompt and professional. He was willing to answer any questions I had and never left me in the lurch. On the day of the wedding, the duo arrived on time as promised and played such a great gig that our guests are still talking about their performance. They played requests and entertained for hours - even allowing one of our guests to sing a couple songs himself! It made for a very fun evening and a more personal celebration."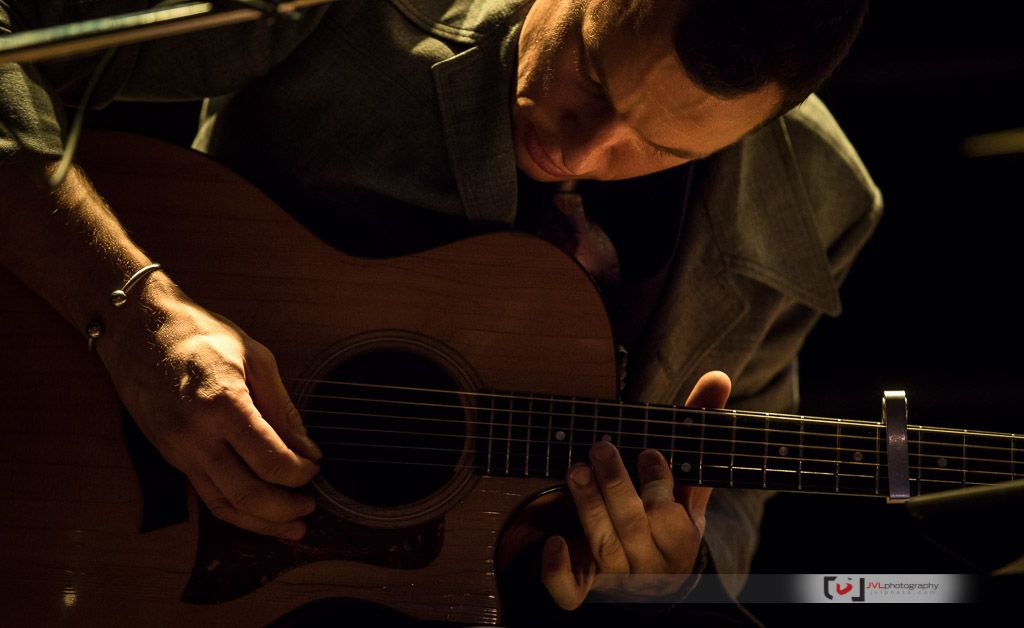 Jen & Pat McNeely, August 2019, Lagos Bar & Grill.  Photo by Four Leaf Photography
"We had the Jackson Miles Trio play at our wedding and every aspect of our time with them was more than we could have imagined. Starting from the planning stages for the wedding Jason was very quick to respond to any questions, extremely organized and accommodating to some specific requests. We chose to have Peter Voith play guitar and sing during our ceremony and words cannot describe his talent and ability to make an already amazing day even more touching. During our dinner the music was excellent and the attention to the speeches to ensure everyone could hear was timeless without any delays. Our reception was one of the great highlights of the day and the live performance by the Trio was more than we could have hoped for. The music selection and ability to work off the crowd were simply added benefits to the outstanding talent this band has! We've been receiving feedback from our guests for months about how great the Jackson Miles Band was and there was literally nothing we would have wanted to be different from what Jackson Miles was able to provide! Ultimately, we initially felt that choosing a wedding band would be difficult but after reviewing the JMB testimonials and video clips the decision was quite evident. We would recommend these guys without hesitation for any wedding!" 
Alex and Jess (Wedding couple August 2018, Evermore Wedding & Events, ON)
"We were so glad to have the Jackson Miles Band play at our wedding. From the first interaction, they were professional, courteous, and made the process easy and enjoyable. They coordinated with our venue to make sure the right equipment would be in place for our celebration. And they were SO GOOD!! Funky, high energy, and playing a great mix of crowd pleasers and unique covers they made their own. Having the DJ on hand between sets was also a big plus - really made us feel like we were taken care of from end to end. I'd definitely recommend the Jackson Miles Band to anyone who wants to dance up a low-stress good time at their wedding or other large event - though the Jackson Miles Duo, who we saw live before booking the band, were also splendid! A bit more on the acoustic/folky side of the spectrum, great for setting a mood."
Clay and Katie (Wedding couple October 2018, Le Belvedere, QC)
"We had the Jackson Miles Trio perform at our wedding and it was easily one of the best decisions we made for our big day.  From the get go, dealing with owner and member, Jason, was so easy and effortless.  His calm and easy demeanor coupled with his professionalism, really set the tone for what we could expect.  He instantly put me at ease by listening to what our vision was, the type of day we hoped to have and how music would play into that and set the tone.
In the months leading up, Jason kept in contact with me, ensure he knew exactly what our expectations were, in order to coordinate our music properly--I think he could tell I was somewhat adamant about how the music would be.  He patiently answered all my (neurotic) questions about timing, different types of music, what the band would play, how the DJ music would work in between, the ceremony music and more.  Just by simply being himself, he was able to ensure I was comfortable with what was to come and that our special day would be absolutely perfect.
For our ceremony, we had decided on DJ music and I had sent a specific line up of songs--everything went off without a hitch, and the timing between each song was perfect.  Standing with my Dad, waiting to walk down the aisle and hearing the song I had spent so many hours trying to decide on, was pure magic.  The ceremony was perfect thanks to music and the timing of it all.
Fast forward to the cocktail hour, I had very specific instructions on what music I wanted played well before the band kicked off their sets.  While our guests were inside, enjoying hors d'oeuvres and drinks, we were outside having photos done.  Since there were speakers outside, I was able to enjoy the music and at one point, I turned to my new husband with a huge grin, 'The music is so good! He is just killing it! I'm so happy!'  It was the perfect mix of chill and house, with songs I specifically wanted to set the tone for what was to come.
Our grand entrance and first dance, father/daughter and mother/son dances went off without a hitch, everything was perfect and I appreciated that Jason kept me and my expressions in view out of the corner of his eye throughout the night to ensure I was happy (haha!).
Finally, and the best part of course, the band began to play during dinner.
When I say everyone was blown away, I mean EVERYONE was blown away.  From my Dad lip-syncing along, to kids pulling up a seat in front of the band, old and young, everyone was in awe.  I started to tear up, and this is coming from a hardcore electronica, hip-hop, dance, trance and house music lover!  It was like having front row seats to the best concert of your life.  My new husband and I were on cloud nine (and he is someone who loves live music, plays the guitar, drums and sings--and was also blown away).
The band played three sets for our wedding and each one was better than the last.  They read the crowd, they got people on the dance floor and they made the night so much better than it could have been with just DJ music.  If you're considering a band, DO IT. The Jackson Miles Trio was the highlight of our wedding, such good entertainment and something everyone was impressed with.  They truly added magic to our wedding!"
Amanda & Marco San Pedro (Bride and Groom October 2018, Le Belvedere, QC)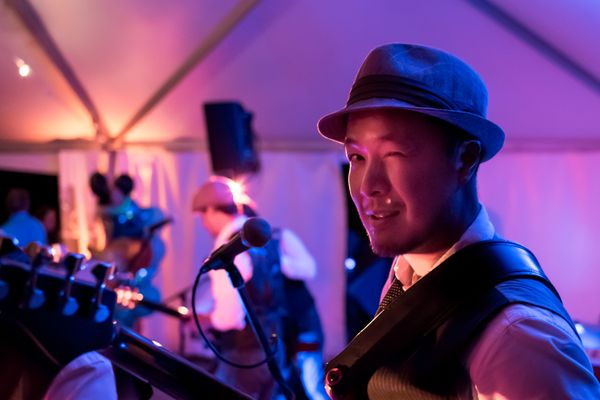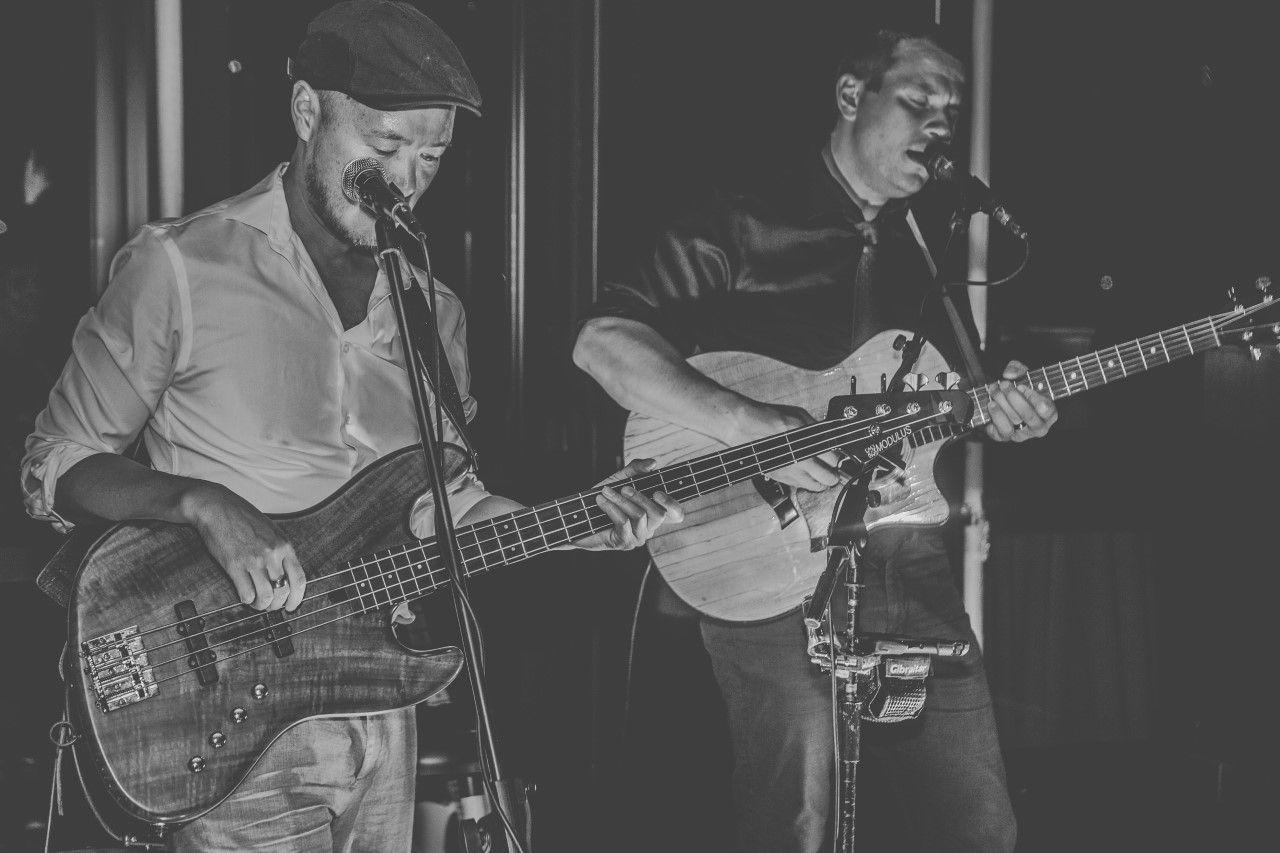 "We wanted to take a moment to thank you again for the wonderful evening you guys gave us for our wedding!! Everyone had an amazing time and we received multitudes of compliments from our guests saying how great you were!! Some of them also want to come back to see your gigs at some point so don't be surprise to see us pop out in the crowd!!"
Annie & Rebecca (Wedding couple October 2018, Strathmere)
"Best wedding band ever! We had an absolutely perfect experience. We booked Jackson Miles months in advance, Jason was very helpful throughout the entire process and always got back to us very quickly. I think EVERY single one of our guests made it to the dance floor! We really wanted a mix of different genres and Jackson Miles did a perfect job accommodating that! We are so happy with our decision and hope to work with them again someday."
- Ashley (Bride September 2018)
"I would absolutely recommend Jackson Miles to anyone looking for a wedding band. Jason was very quick to respond to any questions we had and he offered us many options to suit our needs and our budget. The ceremony music was beautiful and the band kept the dance floor full throughout the reception.
One of my favourite memories of the night was when my father-in-law surprised us. He used to play in a band but he hasn't been able to play for quite a few years because of his Parkinson's disease. He has been doing better recently and he brought his guitar to the wedding. The band welcomed him with open arms and they joined him in playing us a few songs.
The only complaint I heard was from my sister. She wanted to go to the bar to get another drink but she couldn't get off the dance floor because the music was too good.
Thanks again for making our big day even better!"
- John (Groom July 2018)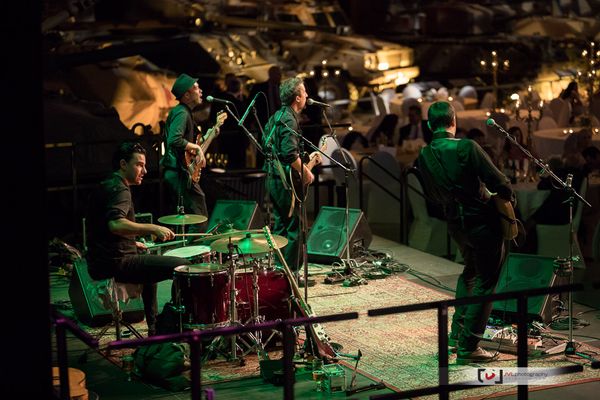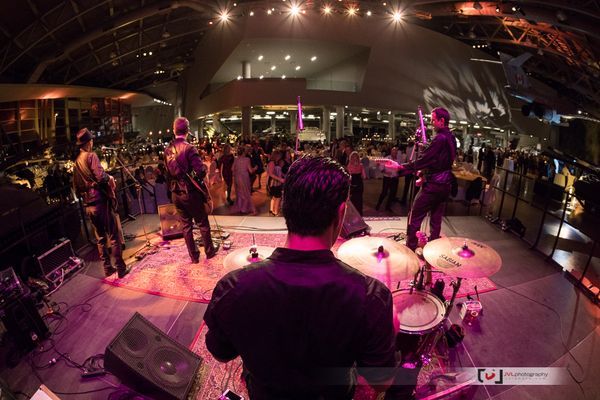 "From the months prior to the day of our wedding, Jackson Miles was amazing! We always received quick responses and they were always willing to answer our numerous questions.  They were quite flexible in accommodating our requests, all while keeping in mind our budget.  We enjoyed live music during the ceremony and cocktail, and the DJ during the dinner and dance- it was perfect! The songs that were played during the evening were songs that got our guests dancing ALL NIGHT.  We have nothing but amazing things to say about Jackson Miles! 
- Isabelle (Bride June 2018)
Hi guys! Just wanted to say a massive thank you!! You were absolutely amazing!! Everyone raved about how great you were and how accommodating you were with requests! I'm sure that was the first rock the boat you've ever seen lol!  You made our evening so much fun and we loved every minute!!  I would recommend you to anyone for their wedding! Thanks, 
- Catherine & Niall (Bride and Groom, July 2018)
"The best band ever! Couldn't be happier with our choice of Jackson Miles for our wedding. We got married in August 2017 and Jason was an absolute pleasure to deal with right from the beginning. So accommodating with song choices, travel time, logistics etc. and the music on the day was excellent - both band and DJ services. Everyone was blown away by how great they were. 100% recommend you book them right now!"
- Jessica M (Bride, August, 2021)
"On behalf of Loblaw 50th Anniversary Committee, I would like to take this moment to thank you and your band for the amazing evening.  The music was fabulous catering to everyone, young and old, country music to jazz and everything in between.  You certainly created a perfect atmosphere for our Spectacular event.  Thanks again to everyone."
- Carol Ann Joiner (Organizer of Loblaws' 50th Anniversary in June 2017)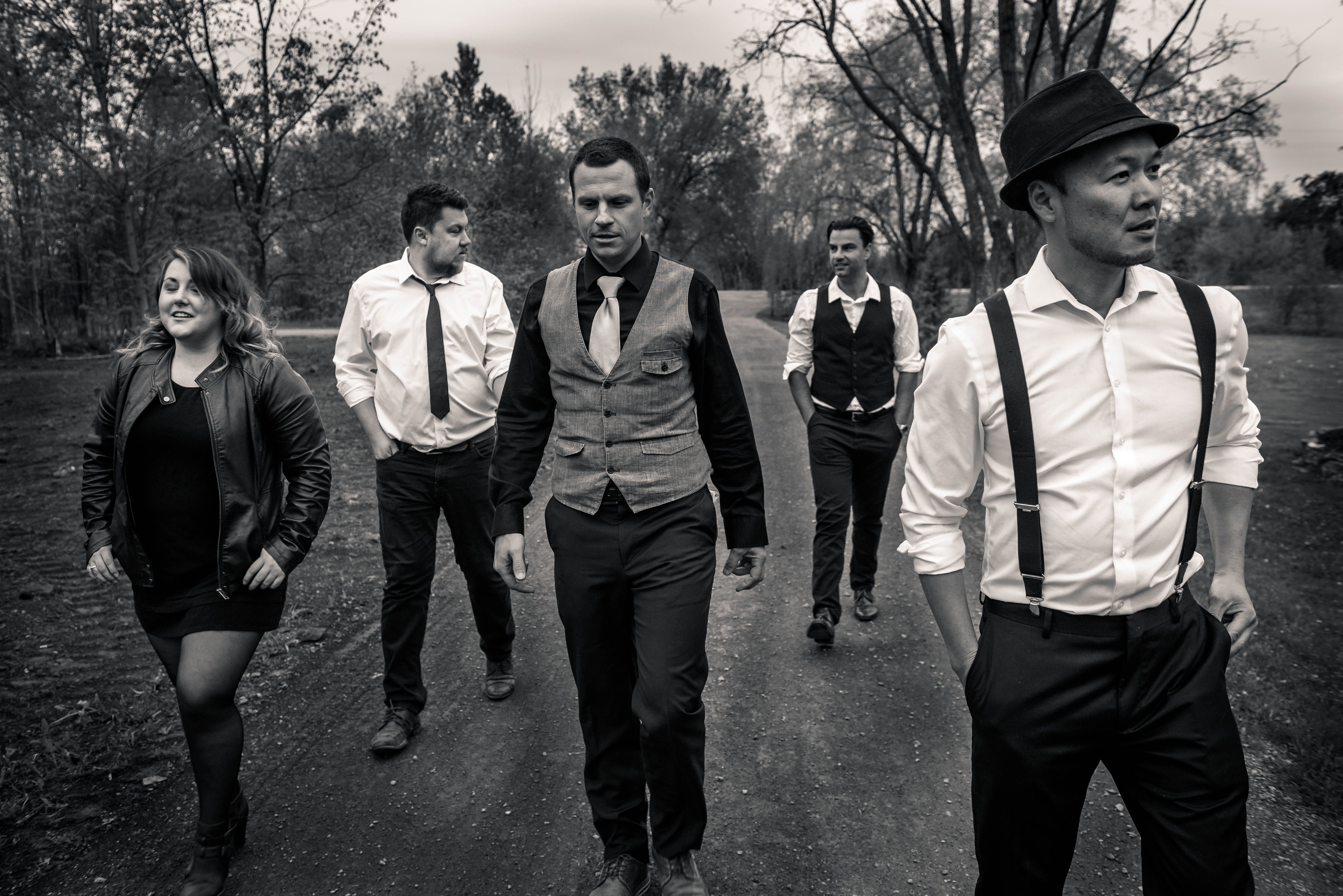 "ABSOLUTELY FANTASTIC!! The perfect choice for a wedding!! From start to finish we could not have asked for a better experience! Very responsive to e-mails and accommodating to any requests we had throughout the organization process, and followed our sometimes confusing instructions to a tee without having to ask for help once! The entire evening went off exactly as we had planned so we were really impressed! The guests were also blown away by the music that kept the dance floor rocking!! Furthermore, in between sets the band was very friendly in talking with the guests and giving the evening a very personable and easy going atmosphere. Not only did we get a non stop party, we also feel like we made some great new friends! We simply could not have asked for anything more and completely understand why this band wins the awards they do - hands down the best wedding experience ever!!"
- George and Stacy (Bride and Groom, June 2017)
"On behalf of the Board of Directors, the Gala Planning Committee and our partnering families, we would like to thank you for generous donation to the 11th Annual Steel Toes & Stilettos Gala in support of Habitat for Humanity Greater Ottawa (Habitat GO). We are thrilled to report that this year's Old Hollywood event was a huge success! With over 350 attendees, including politicians, media moguls, builders and humanitarians, Habitat GO raised almost $70,000 to continue building homes for hard-working, low-income families in our community – and we could not have done it without your support! We have had positive feedback regarding this year's event – from the Old Hollywood-themed entertainment to the incredible variety of quality items up for bid, including your fantastic Kitchen Party package (which sold above market value)! It was a terrific evening and we look forward to repeating the excitement again next year. Thanks to you, Habitat GO plans to build 18 units over the next three years, providing affordable housing to numerous families and children in the Greater Ottawa area. Together we are giving these families a hand up, not a hand out. Your generosity and support make it possible for our organization to exist and to make our community an even greater place to live. We want to sincerely thank you for your continued belief in our cause. Best wishes for a safe and happy holiday season!"
- Kristin Harold (Interim CEO, Habitat GO) and Jackie Moore (Chair, Gala Planning Committee, November 2016, War Museum)
"Jason (DJ) was absolutely professional and accommodating from day 1. From the first song to the last he kept a crowd on the dance floor all night. He definitely helped make it our best holiday party yet and I look forward to working with him again!"
- Melissa Roy (NAV-CAN Xmas party 2016, Sala San Marco)

"I just wanted to send you a quick email to say a big thank you for the wonderful job you guys did at our wedding. We've had tons of compliments on the music provided at each step and were really happy with how easy you made the process for us!  We will definitely recommend you to friends, family and co-workers and hope to see you guys at the Heart and Crown sometime :P Hoping you guys enjoyed yourselves half as much as we all did! Thanks so much again!"
- Lauren and Jason (Bride and Groom 2016, Calobogie Peaks Resort)
"We like think we take our live music seriously ;-)  After searching for many bands online nothing stood out, until we came across Jackson Miles and then we just stopped looking!  We emailed Jason and then went to check them out at the Heart & Crown, we were impressed so we booked them!   A few months later we took family to see them at the Crazy Horse, everyone agreed they were amazing and we couldn't wait to have them play for our big day!  We also booked their sound system to be hooked up outside for our outdoor ceremony... My husband had the music on his iPad... which he left in the limo!!!  No problem- Pete was able to get all 4 songs we needed and had them ready for us 5 minutes before the ceremony started!  What a stress reliever and a life saver!  Having live music at our wedding was always top on our list, and we were not disappointed!  We gave them a list of our favourite songs from their playlist and they stuck to it!  Jason even took special requests from the bridesmaids during the DJ'd breaks!  The dance floor was never empty!  It was so great to have our family and friends up dancing, singing and making memories with us!  We've heard nothing but rave reviews from our guests about Jackson Miles, thank you for making our big day perfect!"
- Aleisha & Ben (Bride and Groom 2016, Evermore Weddings and Events, Almonte, ON)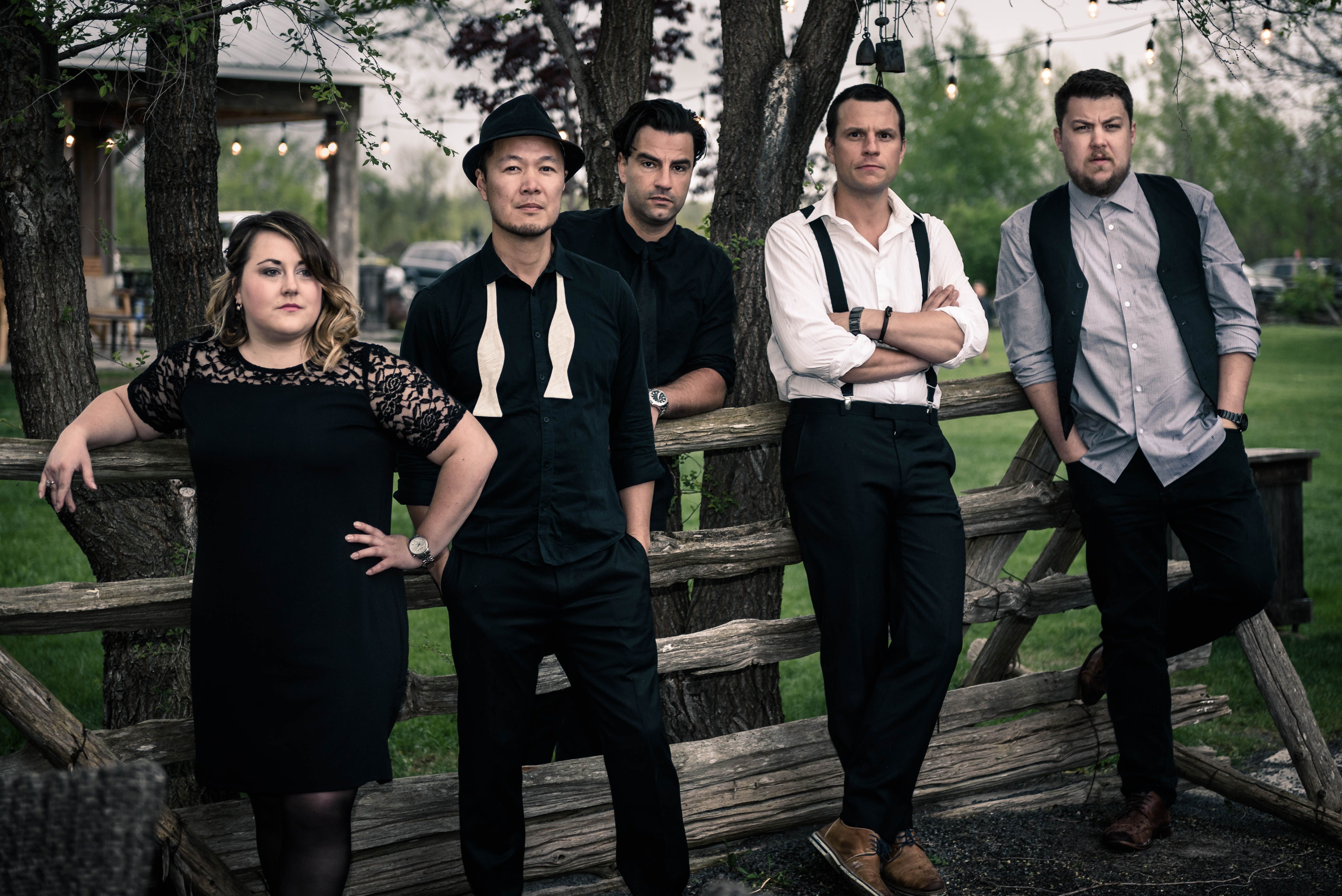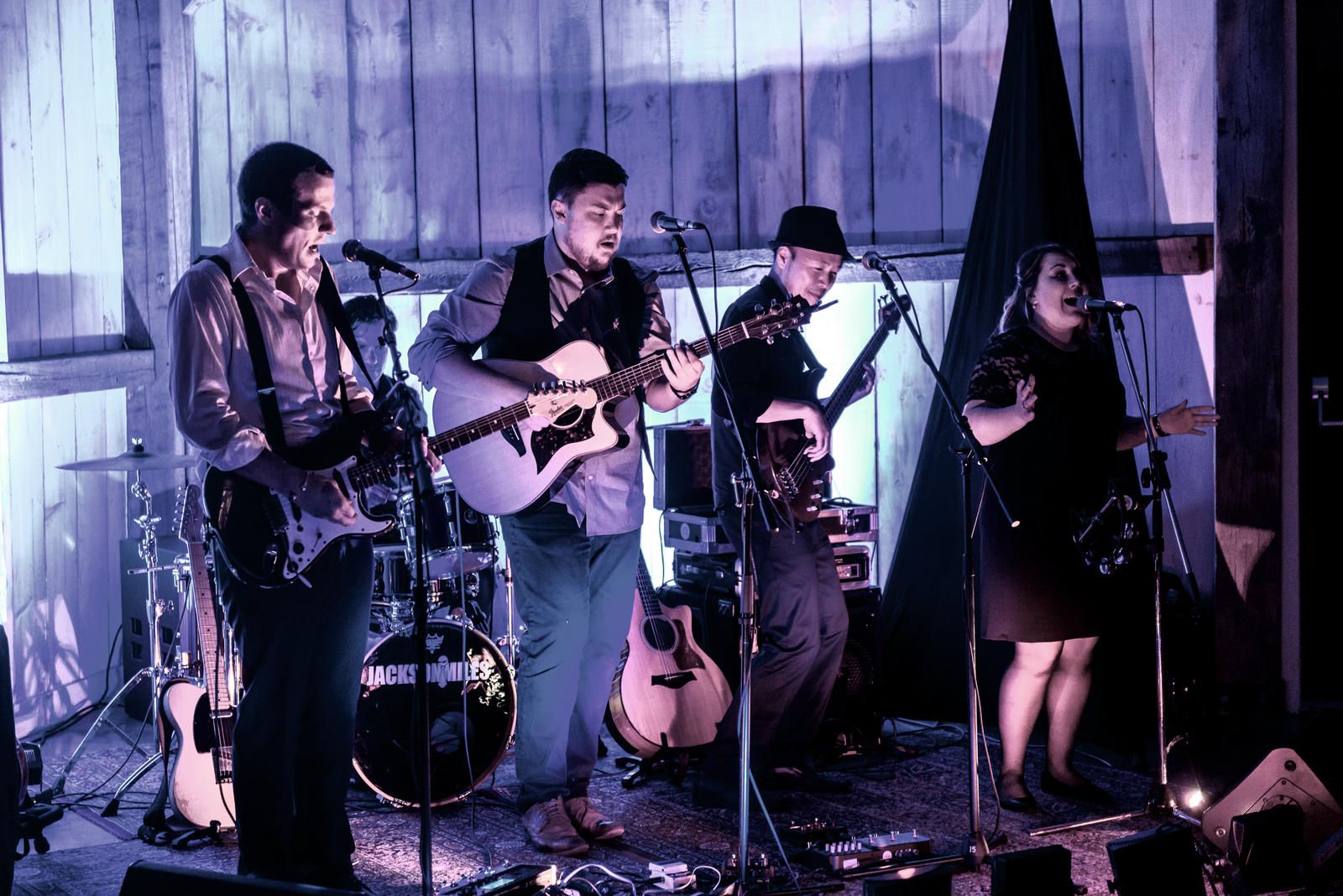 Steve and I want to thank you and your band for putting on such an amazing performance for our wedding!!! We so appreciated you guys staying later into the night for us and for being so patient while we had our photos taken later into the evening than planned.  You guys did an awesome job at our wedding. We truly loved having you and can't wait to have you back.
- Stephanie and Steve (Owners of Stonefields Heritage Farm and Bride and Groom 2016)

 "Hi Jason and Rhiannon, Amine and I just wanted to take the time and thank you for being a part of our special day! You did such an incredible job with the music during the ceremony and cocktail hour. Also, a big thank you for learning the specific songs we wanted played at our wedding. It really meant a lot to us and you guys sounded amazing!!"
 - Steph and Amine (Bride and Groom 2016, Ochardview, ON)

"Vic and I just wanted to write another big THANK YOU for giving an amazing performance at our wedding! Everyone in attendance has been expressing how much fun they had and how much they enjoyed the band! Vic and I think that everyone enjoyed themselves thoroughly, and we hope that you guys did as well. We really do appreciate that you came out to Anderson Links to be part of our special BIG day, and we cannot thank you enough for putting on such a wonderful performance, and also for making our first dance memorable, for both us and everyone in the room! We would also like to thank you for helping us choose the right songs for the immediate family dances, and for playing our wedding party into the venue! The night was a SMASH thanks to Jackson Miles! All this to say is that we are very thankful to have had you guys play our wedding, you really did make our night magical! This is beginning to sound like an Oscar speech! *Cue wrap-up music*"
- Victoria & Michael Swenson (Bride and Groom 2015, Anderson Links Golf and Country Club, ON)
 
"Our New Years Eve wedding could not have been as epic without the help of Jackson Miles. The music was outstanding and our guests danced the night away. We have had nothing but compliments as feedback to the band from our guests, like friends saying they have never danced so much at a wedding.During his speech, my father in law had a surprise for his daughter, a song. This well performed surprise was facilitated by Jason and his gang who helped my father in-law and his son, tune the guitar and do a quick mic check while they were setting up.  The added value a live band adds to any event is equal to none, and if that live band is a group of four professional, courteous and helpful guys called Jackson Miles, then you know people will be talking about your event for years to come."
- Kate and Marc-Antoine (Bride and Groom 2014, Chateau Laurier, Ottawa, ON)

"Please pass this along to the rest of the guys. We just wanted to send along a big thank you for the music yesterday. In our opinion, music is the most important part of a successful wedding and you guys nailed it! It couldn't have been better! We received a ton of compliments about how talented you guys are and how great the music selection was. A few of our friends mentioned wanting to use you guys when they get married in the future. Overall everyone, including us, were super impressed! Thanks for keeping everyone on the dance floor all night!"
- Shannon and Brian (Bride and Groom 2014)

"I am a BIG supporter of Peter Voith (of Jackson Miles) and his musical endeavours."
- Mark Monahan (Executive Director OTTAWA BLUESFEST)

"Jackson Miles was the band at our wedding and they were AMAZING!! Such a diverse mix of songs and were willing to learn new songs just for us. The dance floor was packed all night long, young cousins to our grandparents all rocking out. The best part of our experience was dealing with the guys leading up to the wedding. They are a great group of guys and are extremely professional. Quick to reply on e-mails and willing to totally adjust their day of to make sure the setup was done on time. We also had a lot of fun going to check them out leading up to the day of!!! Highly highly highly recommend this band!"
- Connor McGarry (Groom 2014, National Art Gallery, Ottawa, ON)

"I just wanted to write to you guys and thank you again for your amazing job on Saturday. The first dance song was amazing and perfect. All the guests were telling us how good you were. As music lovers and musicians, it is very important for us to have excellent music for our wedding, and you guys went above and beyond. Thank you for making our day so special."
- Dan and Mary (Bride and Groom 2013)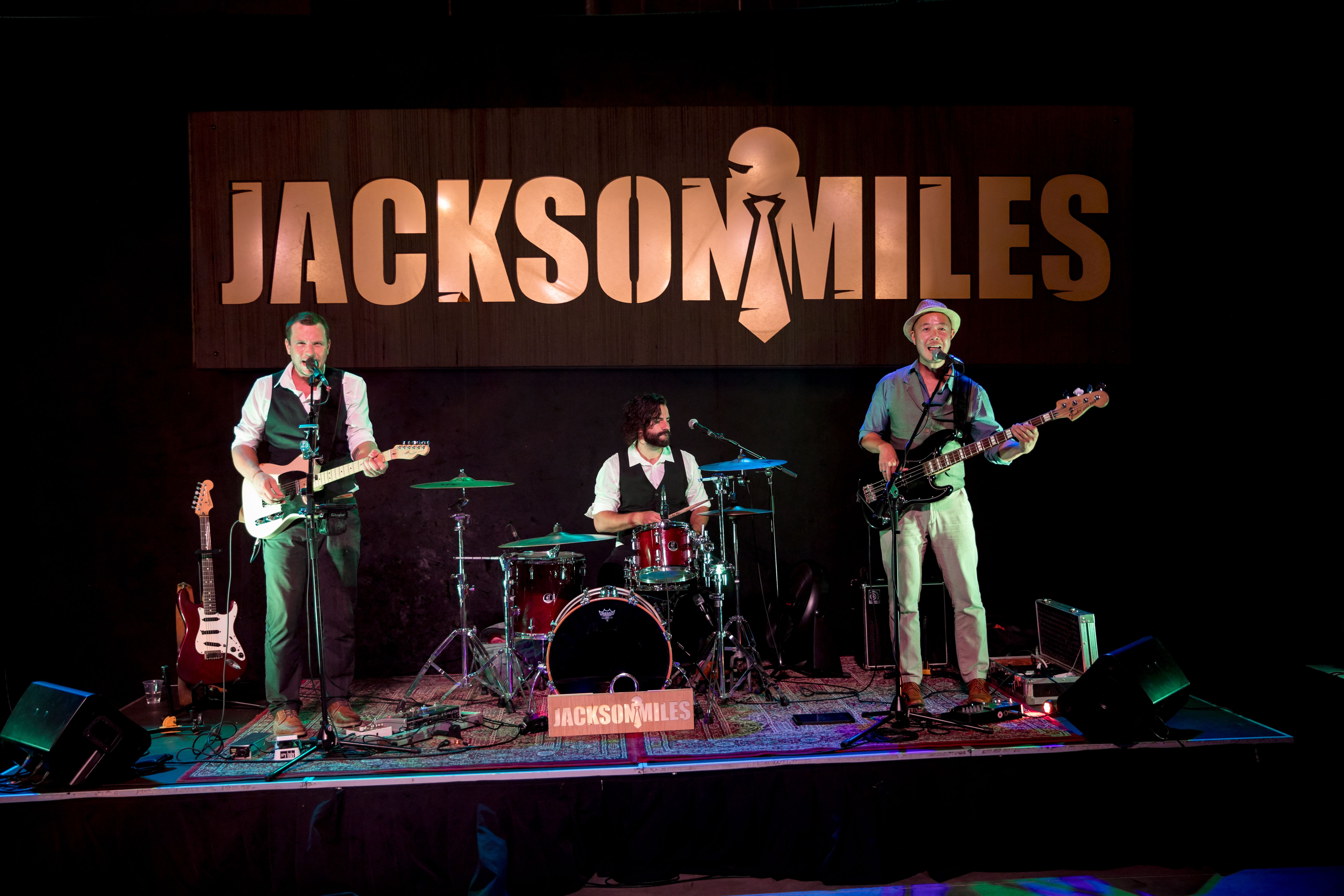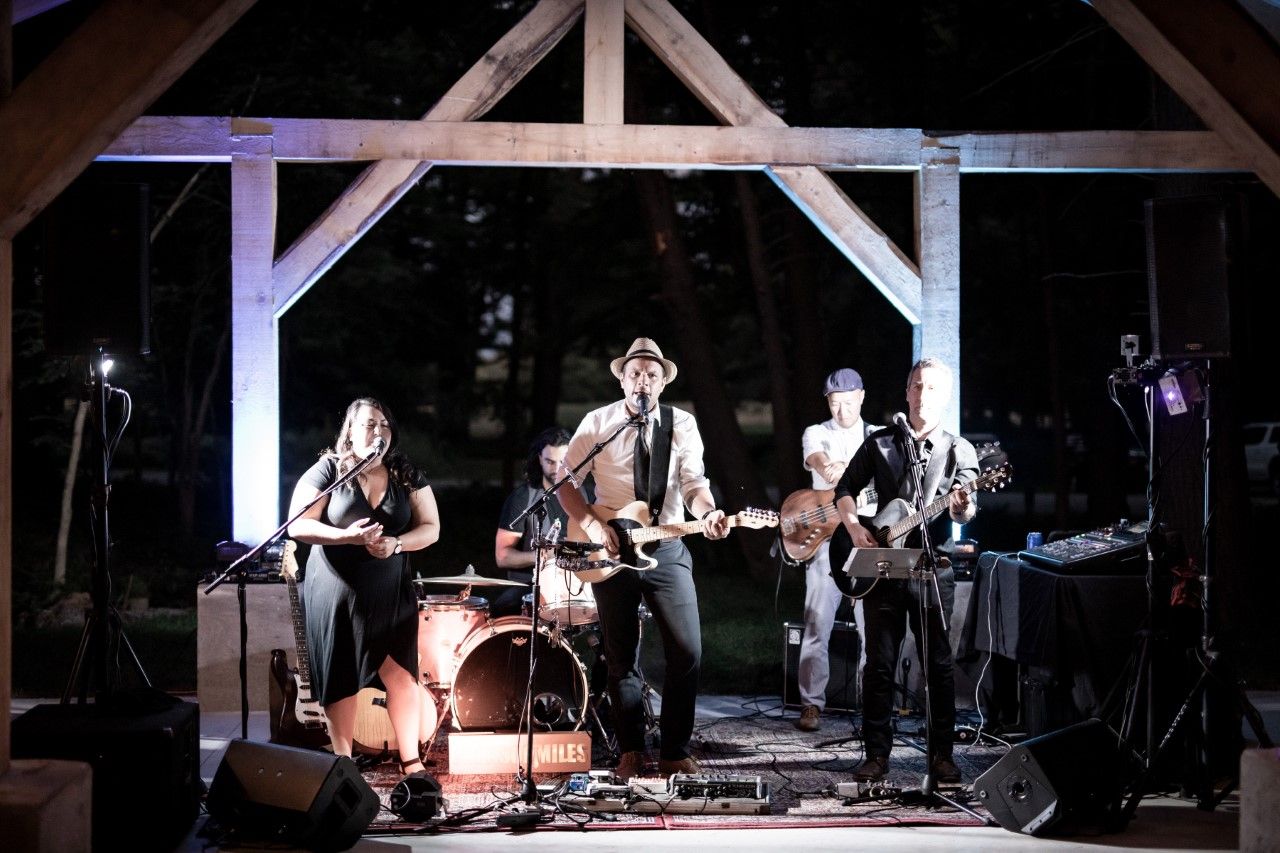 "We're back from the honeymoon now, and we just wanted to send you a quick message to thank you again for the amazing job you and the band did. You guys kept the dance floor moving all night long, even between sets, and people kept dancing right down to the last song. We really wanted a band for our wedding, and looking back, we couldn't have made a better choice. You were professional from start to finish, and were so easy to work with. We can't thank you enough for playing such a big part in the evening being a success, and if you could pass on those thanks to the rest of the band, it would be greatly appreciated. If there is anything we can do to help promote you guys outside of the usual verbal recommendations, please let us know."
Thanks again for everything!
Cam and Sarah (Bride and Groom 2013, Restaurant 18, Ottawa, ON)
"Hi Jackson Miles, I just wanted to thank you guys for making our Christmas Party AWESOME!! Everybody says this was the best year yet, which I'm sure is due mainly to you guys!! You put on a great show and kept everyone up and rocking!! I've never seen the dance floor so packed at the end of the night, and all night long for that matter! At the after party (what I can remember J) , and yesterday all anyone was saying was how amazing you guys were!
I super appreciate how easy going you were to work with, and how professional you all were at the event- Every person at our party would highly recommend you to anyone asking!!   Lets' keep in touch for next year- our party is always the first Saturday in December, and we would super love to have you back! 
Take Care, hope you all have a great Christmas Season,
- Genevieve Colquhoun (MODERN NIAGARA Corporate Event 2013, Brookstreet Hotel, Kanata, ON)

I caught you guys at Rideau Carleton last night and you were fantastic. The way you made "Boots or Hearts" your own, and then nailed Tracy Chapman's "Give Me One Reason" was great. Excellent mix for a small venue, and very tight band. Glad I went even if I did lose a $100.
- Rideau Carleton Raceway (Guest 2014)

"Thank you so much for putting on a fantastic performance at our wedding. We are still getting compliments about the band that "rocked" our reception. What I particularly loved about you guys is your passion for music and your genuine nature. I believe word of mouth is key and you will come highly recommended by me. I look forward to hearing you guys in future."
- Nathalee Martin (Bride 2012, Sucrerie de la Montagne, Rigaud, QC)

"I just wanted to drop you a brief note to again thank you and the band for making my daughter's reception a complete success. I'm not a big dancer but I had to get up and dance, everyone was having such a good time that I couldn't help myself."
- Jacques Martin (Father of 2012 Bride and former OTTAWA SENATORS Head Coach)

"Booking the Jackson Miles Band was the best wedding decision we made by far! Having Peter play acoustic guitar as I walked down the aisle is a special moment I will cherish forever. The energy the band brings to the stage gets all guests dancing, young and old. The band was so easy going, flexible, professional and a true pleasure to work with from the very first contact. We had many compliments about them and people remarked about how amazing their voices and music were. Thank you Jackson Miles for making our wedding day so fantastic."
- Val and Geoff Magnus (Bride and Groom 2012, Temples Sugar Bush, Lanark, ON)
A HUGE THANK YOU FROM JASON LEEN AND PETER VOITH ON BEHALF OF ALL OF US HERE AT JACKSON MILES EVENTS FOR THE HONOUR OF PERFORMING AT YOUR EVENT.... WE TAKE GREAT PRIDE IN EACH AND EVERY ONE WE DO AND WE'RE SO THANKFUL WE WERE ABLE TO BE A PART OF YOUR CELEBRATION...UNTIL NEXT TIME! 
Jason Leen and Peter Voith - Co-Owners of Jackson Miles Events - 2020